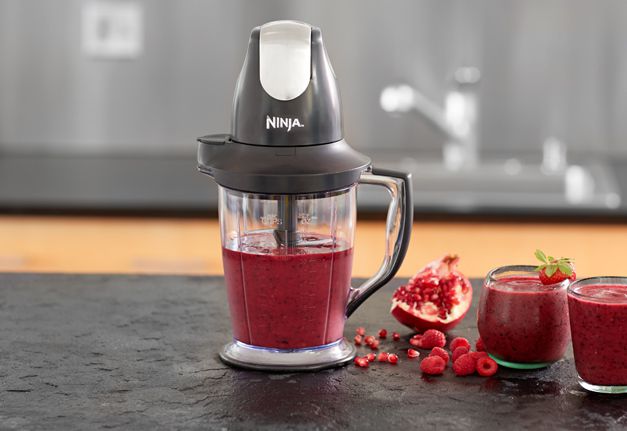 Just what is the Ninja food processor and why is it so popular? What comes into your mind when you hear the word ninja? Some would think of fast martial art moves and of course their sharp swords. That is basically what a Ninja food processor does. It has the speed and efficiency of a ninja and blades that will give you a desired finish to your foods.

The original Ninja food processor or Ninja Master Prep as others call it, has a metal stem with a double layer blade. This blade enables processing of food in a consistent and efficient manner giving out a evenly mashed food. These blades are programmed to precisely mince, dice, puree and chop ingredients to your desired texture. The one advantage of the Ninja food processor you need to know is its ability to transform ice into snowflakes to make creamy frozen drinks like milkshakes, smoothies, margaritas, frappucinos and so on.
Want to know the truth about the Ninja food processor and whether or not it does its tasks as well as advertised? Let us take a closer look at the original Ninja food processor, the Ninja Master Prep. as well as the the newly launched Ninja 1100 which is the pro version of the Ninja series.

The Ninja food processor can simplify food and drink preparation in shorter time.
Turning ice into snow is undoubtedly the one thing that the Ninja food processor does exceptionally. This means that you are able to make freezing cold slushies, smoothies, margaritas, frappucinos like how they make it in expensive restaurants. To get a concentrated fruit smoothies, you can use frozen fruits direct from the freezer without thawing. Blend them whole or remove the pits first if you are picky.Ninja Food Processor Making Ice Cream And Sorbet.

If youre using the Ninja 1100, it is possible to make snow cone and ice cream from blending frozen fruits, without adding too much water. Instead, add some milk for a creamy texture. You can make your own ice cream sorbet by grinding frozen fruit juice and yogurt. However, if you are crushing ice, you must remember to add adequate amount of water. Otherwise, youll find the ice freezing around the cyclinder and the blade and difficult to remove from the food processor unit.

Instead of relying on canned food, you can prepare freshly pureed food for your baby with the Ninja Master Prep, as well as making hummus and dips. There is no need to buy a baby food processor with the Ninja food processor, as you can puree almost anything hot, without having to cool them first.Ninja Food Processor - Making Pizza Dough, Biscuit, Cookies
Whatever the Master Prep can do, the Ninja 1100 does it better, thanks to its turbo-charged power. However, with the added 5 attachment, the Ninja 1100 can whisk, mix and knead dough for bread, pizza, biscuit, cookies and pies in a snap. These attachments is interchangeable for different types of foods. The Ninja food processor can make elaborate food preparation a breeze. For example, you can use it to knead pizza dough, puree fresh tomatoes, dice mushrooms, grate cheese, and mince beef when making pizza.Ninja Food Processor - Dicing,
Slicing and Chopping
Chopping garlic and dicing mushrooms are not challenging and are common task required for virtually every meal. The reason why I choose to highlight this is, you should absolutely tap on control switch to get short pulses instead of pressing on it. It is extremely easy to get mushy texture if you overdo this. If you want chunky consistency, youll have to watch the pulses very closely and use fewer pulses (2-3 pulses is enough).
However, the Ninja 1100 has 3 speed control so you dont have to second guess how hard you should tap to get the results you desire. Theres a Ninja food processor for every kitchen master. The original Ninja Master Prep has everything you need to bring your kitchen to life and the Ninja 1100 is the premium, upgraded version for professional use.

What We Dislike About The Ninja Food Processor
The Ninja Master Prep has a few weaknesses. Its lid has little spaces where food can get trapped and become difficult to clean. Fortunately, this is rectified in the Ninja 1100. Besides, the blade of the Ninja Master Prep have to be inserted correctly or it will get damaged when the unit is switched on. The Ninja 1100 on the other hand, has a deeper shaft for effortless upright blade insertion.

What We Like About The Ninja Food Processor
We like the flexibility of this product in performing multiple food preparation tasks. More importantly, the blending quality remains consistent when working with different types of food. Well recommend the Ninja 1100 over the Ninja Master Prep due to the improved features and greater blending power. Its worth the higher investment since this is something that youll use on a daily basis for years to come