Yes, the kitchen is a dangerous place.
And not just for culinary school students as the readers who sent in these kitchen disaster stories can readily attest!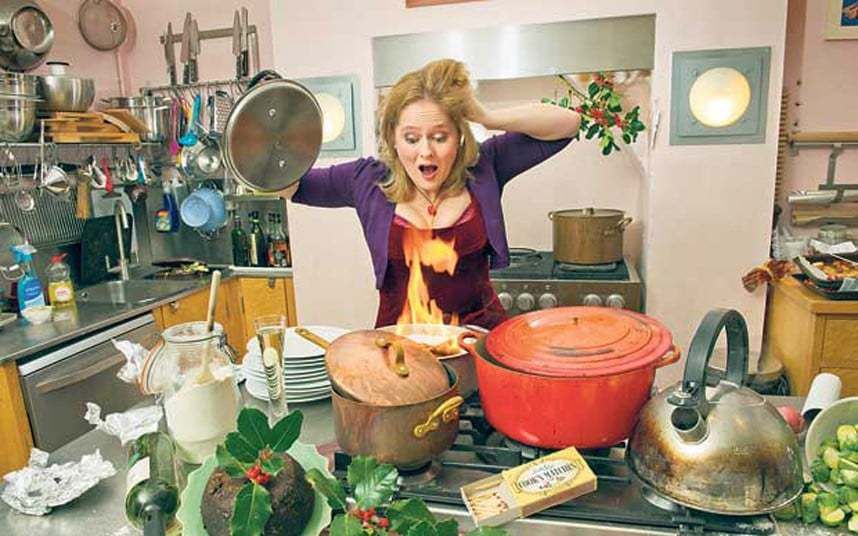 1. Ohhh The zucchini pie. It was the summer of the 12 lb. zucchini from Mom. We had zucc. bread, cookies, steamed, fried, casseroled. This was supposed to be a nice light summery thing rice cooked in broth, a bit of seasoning, and grated zucchini in kind of a quiche thing. However, when I took it out of the pan, it wasnt supposed to go clank. It was, well, sturdy. We shared cooking nights with the guys upstairs that year in college, and at least I can say I wasnt responsible for the sweet & sour tuna from canned tuna. We eventually had a Pepto-Bismol award of the month.

2. When I was a teen, using a mixer to prepare cake batter, I got my hair rolled up into the mixer, batter and all.

3. I started a fire in my nieces kitchen.

4. accidentally putting the oven on broil instead of bake to bake a pizza, going outside to take care of a few things to come back into a kitchen full of smoke.

5. There are so many, all mostly due to inexperience: Leaving the shells on the shrimp I wrapped w/prosciutto, defrosting lamb on the counter the day before a dinner party (of course it spoiled), the refrigerator breaking down during a party, and my personal favorite, putting too much cayenne in a butternut squash soup and serving it to my spice phobic in laws.

6. With guests coming over for dinner, tried a new spinach quiche recipe but didnt squeeze enough liquid out of the cooked spinach resulting in a watery filling that would firm up no matter how long I cooked it.

7. While grilling shrimp on the Jennaire, I caught the thing on fire. Still not sure how I did it, but the metal grates melted and burned.

8. Rice Pudding I lost count of the cups of water I added, and it came out like a brick. I made especially for a dinner guest whose birthday it was.

9. Im a regular burner

10. I was making a baked polenta and cheese dish, Ive made it a million times. But I was in a bad mood and didnt cook the polenta long enough so I ended up with a disgusting runny cheesy polenta soup. This did nothing to improve my mood!

What about you? Have any cooking disasters you can share? Were all ears!
Oh, and I only have ten more disasters left which I will share in my next kitchen disasters post and, as a bonus, Ill also share my TWO worst kitchen disasters.